It's around 60 degrees F. and no to little wind with no clouds. In the mountains it's about 40-50 degrees F with 10 MPH winds.
Who is online?
In total there is
1
user online :: 0 Registered, 0 Hidden and 1 Guest
None
Most users ever online was
8
on Thu Apr 14, 2016 8:41 pm

I used to be rayna, But in roleplay she passed away, So she is now this character, all of rayna's roleplay posts are white, and Steels are orange or yellow
Shelby, Steel, Or Silver, AKA Gunpowder
Female
1 Year Old And 7 Months
Prefers Males
Irish Wolfhound X Rough Collie X American Staffordshire Terrier (Pit bull)
History
As a pup, Shelby was always known as "odd" or "Mental" Which she was, and is. Shelby has ADHD, And she is bipolar. As she grew, Her home sold her to her new home. Within 2 weeks, She had 4 homes because no one could put up with her barking at nothing in the yard, Or chasing shadows due to her ADHD. They hated how random dogs and people from gangs would join outside, but this is because her father was the leader, and tradition is the largest, strongest child of the leader takes their place, this happens to be Shelby. They also hated how Shelby would love them- then run, or start whining. This soon ended when she attacked someone, Nearly killing them, Gaining a bad name. She is shockingly calm around guns, and seems to like the scent of gunpowder, Giving her the nickname "Gunpowder". She has so many names because its what some of the people named her. Soon, She became a dog training for hunting. In this process, A bullet shell knocked back into her eye, Leaving one eye 90%  blind. The rest of her history well continue in roleplay.
(to clear it up, she is the leader of a gang, partly blind, and as a pup she couldn't find a human who would keep her, leaving her homeless)
Appearance
Steel has a very large frame, And fur that hangs from her frame, But under she is very very muscular with a large chest and small stomach. Steel has a white chest that extends to her neck to make a collar, and the white goes all the way down her chest. She has a black "face frame" and white socks, along with a white underbelly and under her tail. She sometimes wears a black collar, others a white collar. Her fur is very long, and very silky. Her ears stick up, but when she isn't alert the ends well flop down. Her tail is pretty normal, A straight tail with a bit fluffier fur. Her paws are very large, And almost like mops due to all the soft silky fur. Steel took on the size of a Irish wolfhound- The only thing she got from a Irish Wolfhound. She is 36 inches at her shoulder and she weighs 160 pounds. She has a very agile, but very strong and what humans call "Beautiful" build. She also has a very very large chest and very strong back legs, Along with a "square" shaped strong jaw.
Traits
Loyal, Sweet-Tempered, Generous, Thoughtful, Patient, Not really a trait but she has ADHD, Bipolar, Very hyper, Insane/mental (Whatever you think suits her better), Quite shy but nice when you know her, Mean when need be, Graceful,
Parents~
Her mother is a a "orange" or tan and white dog, Getting the nickname Rusty, where her real name is Sunny. She is only 4 years old and 80 pounds, a pure bred Rough Collie, where Steel got her looks.
Her father is a black dog, Named Shadow, or Giant due to his incredible size. Her father isn't really that large, around the same size as her weighing 195 pounds and 41 inches tall. He is also a model due to his large size. He s a purebred Irish Wolfhound, and where Steel got her size.
Siblings~
I broke them up into groups of what home they went to
Skye- Female
Axe- Male
Diamond - Female
Hawk - Male
Gold - Male
(The middle one is a different dog)
Mate~
<3
Lupus
<3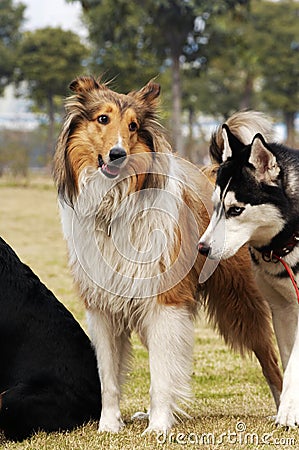 Crush~
None
Pups~
None
Last edited by Steel on Tue May 10, 2016 7:34 pm; edited 2 times in total
Admin




Posts

: 81


Join date

: 2016-04-07


Location

: Somewhere.... Surrounded by animals



Admin




Posts

: 81


Join date

: 2016-04-07


Location

: Somewhere.... Surrounded by animals





Similar topics
---
Permissions in this forum:
You
cannot
reply to topics in this forum