It's around 60 degrees F. and no to little wind with no clouds. In the mountains it's about 40-50 degrees F with 10 MPH winds.
Who is online?
In total there is
1
user online :: 0 Registered, 0 Hidden and 1 Guest
None
Most users ever online was
8
on Thu Apr 14, 2016 8:41 pm

~Rayna~
~Female~
~1 year and 9 months old~
~Prefers males~
~ Boxer X English Mastiff~~History~
Growing up in the same house as her mother, Rayna's mother often modeled, and they expected no less from Rayna. When Rayna was more of a love dog and not a show dog, they grew tired of her and began beating her. They cut her tail on purpose with nothing but a knife when she was 1 year old, then put her outside to walk it off. Her mother was taken away, and she has never met her father, though she sees pictures of him all around the house. She often wonders where he is, or why he left, if he wanted to leave at all. The humans leave her outside all day, and most of the night, Because they hate her. She soon started modeling to please the humans, and though she models now, the humans are still very mad with her. She still is abused, though no longer physically, still put outside for hours and hours.
(The rest is in her roleplay)
~Apperence~
She has dark brown, almost black eyes. Her fur is all a fawn like color, with black at her ears, muzzle, and her tail.  She wears a red collar, and sometimes a black one that is half chain, which she is personally scared of due to being choked with it in her past, and being smacked with it much like a whip. She has very short soft silky fur of a mastiff. Her ears flop down, very short though like a boxers. Her tail is cut half of its normal size, having it chopped when she was young. She has overly large paws. Because she looks like a smaller breed of dog, She often looks small in her pictures, though she is 40 inches at her shoulders currently, believed to grow up to 45 inches tall or more. She weighs 265-280 pounds, Growing up to 290-300 pounds. She is not overweight, but obviously not underweight though she gets most of her food herself, giving her a good diet.
~Traits~
Playful
Bright
Loyal
Energetic
Friendly once she knows you
Calm
Cheerful
Confident
Fearless of most but nt all
Brave
Intelligent
wary to strangers
Very shy
Doesn't speak much
very scary but only when need be
A huge love bug
Not really a trait but she has a bit of ADHD
A bit bipolar
skittish submissive and distant around humans do to her past
~Parents~
Her mother is a black Australian Cattle dog. Her father is a red Alaskan Malamute English Mastiff mix.
Mother-
Hailie. She is a pure boxer, Having a cut tail and ears that curve to her face. She is brindle, a beautiful dog, Clearly giving the word "Beauty" a different meaning with her warm personality as well.
Father-
Shadow. He is a Boxer mix English Mastiff, but mostly mastiff and only 25% boxer. He is very very large, more than that of a normal English Mastiff, Giving Rayna her size. He is much more aggressive than his mate, Giving Rayna her good mix of tempers. (In the picture below, her father is on the left, and his brother on the right)
~Siblings~
Tanner and Roxy~ Females~ Rayna is still in contact with both females, though she hasn't seen her brother in months.
Roxy is the lightest, Tanner is darker.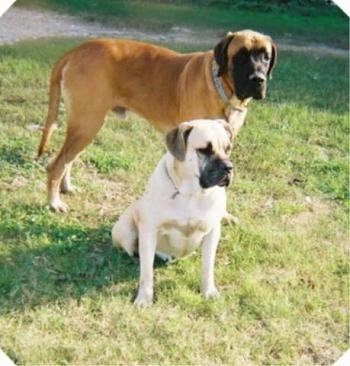 Bear~ Male~ Sadly, Bear has a bad under bite, and hasn't seen Rayna in months. Though, Bear does live in the countryside as well as their sisters.
She had 13 siblings, but can't remember the other 10, or they have passed.
Mate~
Lupus
Crush~
None
Pups~
None
Last edited by Rayna on Sun Apr 24, 2016 7:33 pm; edited 5 times in total
Admin




Posts

: 81


Join date

: 2016-04-07


Location

: Somewhere.... Surrounded by animals



Awkwardly accepting myself now

Admin




Posts

: 81


Join date

: 2016-04-07


Location

: Somewhere.... Surrounded by animals




---
Permissions in this forum:
You
cannot
reply to topics in this forum